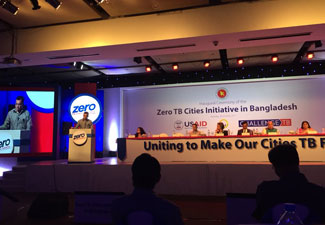 Dhaka, Bangladesh has become the latest city to sign up to the Zero TB Cities Initiative. The initiative will combine a public awareness campaign with TB screening, in order to help find many more of the "missing" TB cases.
A recent TB prevalence revealed very high rates of TB in the urban areas of Bangladesh, and Dhaka is estimated to have more than 150,000 missed TB cases every year.
As Dhaka is the fourth most densely-populated city in the world, controlling this airborne disease is critical to ending the TB epidemic in the country.
At the launch event, the US Ambassador to Bangladesh Marcia Bernicat praised the initiative, she said: "This is significant because Bangladesh has the seventh highest prevalence rate of TB in the world by bringing Dhaka into this initiative, we will be better able to prevent, identify and treat TB and help save lives."
The initiative in Dhaka was launched with the support of USAID/Challenge TB.