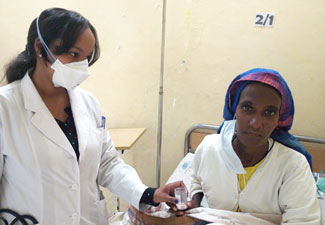 Ethiopia began rolling out the 'Shorter Treatment Regimen' for the treatment of drug-resistant TB in April 2018.
Alem Aweke and Takele Abera from Addis Ababa, and Alem Ferede from Gonder were the first three patients to be enrolled.
The new regimen cuts the treatment duration from two years to only 9 months, the number of pills that need to be taken is reduced by almost half, and treatment is much cheaper than the original 20-24 month regimen. Patients only receive injections for the first four months of treatment and perhaps most importantly, the costs incurred by patients having to make daily visits to health facilities, will be significantly reduced.
One of the first three patients, Alem Aweke, said: "I have been told that I do not need to take the TB drugs for 2 years and if I take my drugs properly I will be cured in 9 months! What more do I need? I am so happy."
The Challenge TB project in Ethiopia is assisting with the start-up of the Shorter Treatment Regimen at treatment initiation centers. This support will lead to better patient management and support, and as the treatment duration is significantly shorter, patients will be better able to adhere to their treatment and finally be cured.